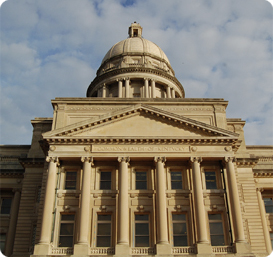 KYA Advisors   KYA Sample Agenda   KYA Awards   KYA Calendar   KYA Debate   KYA Elections   KYA for Parents
Student Roles:  Legislative   Premiere   Congressional   Lobbyists   Judicial   Media   Candidates   Bill Authors   Parliamentarians
KENTUCKY YOUTH ASSEMBLY

CLICK HERE TO INTENT TO PARTICIPATE

The Kentucky Youth Assembly (KYA) is a three-day experiential learning conference in which students participate directly in a simulation of the Commonwealth's democratic process. Acting as Senators and Representatives, students write, debate, and vote on legislation that affects them. As candidates, lobbyists, or members of the media, students experience the rich spectrum of activity that constitutes our political process. As advocates and justices, students argue and judge a legal case in the actual Supreme Court chambers of Kentucky. Officers elected by students serve as Governor, Chief Justice of the Supreme Court, Media Corps Editor in Chief, and other conference leadership positions.

KYA offers students the opportunity to learn about a wide variety of issues, develop critical thinking skills, and articulate their beliefs while engaging constructively with those who hold like and opposing views.
FAQ
KYA is run by elected student officers, but professional Y staff members, teachers, and volunteer advisors are always present to keep things running smoothly and safely.
Most conferences are held at the Crowne Plaza in Louisville, Kentucky. On the second day of each conference, students travel to Frankfort to debate in the Capitol and Old Capitol.
Students in grades nine through twelve may attend High School KYA. Your delegation may choose which conference to attend based upon which dates work best for you on a first come, first serve basis. Click here to see the Conference Dates.
What are the student program fees?*
$230 for Student Y Members
$240 for non-Student Y Members
What are the adult program fees?**
One advisor per 15 students: FREE with on-time registration (click here)
Shared Room: $135
Private Room: $190
What is included in the fee to attend?
The program fee includes lodging, lunch and dinner on second day, final morning breakfast, and transportation to and from the Capitol in Frankfort.
Are there scholarships/financial aid available?
The Kentucky YMCA is committed to enabling access to our programs to all interested students. Need-based financial aid is available. In order to be considered for financial assistance, a student and his/her parent or guardian must fully complete the financial assistance request form and submit it to the Kentucky YMCA no later than your conference's deadline. You can obtain a financial assistance form here or from your regional director.
Are there Professional Development Opportunities available for teachers attending KYA with their delegation?
Yes, the Kentucky YMCA is proud to offer one hour of PD credit to teachers for attending a workshop on "Improv in The classroom."  The workshop will demonstrate effective ways to use improv-acting to increase student engagement and encourage higher order thinking." Click here to Register.
What if I have more questions?
Feel free to contact your regional director to have questions answered via email and/or to set up a meeting with you and your delegation.
*All rooms are expected to have 4 students. One room of 3 is allowed at no extra cost per gender.
** Discount of $135 given for every 15 students. Advisors paying for shared rooms may be paired with an Advisor from another delegation unless a roommate is specified. Private room availability is not guaranteed at conferences that have reached their capacity.